PayPo
Brand experience for the deferred payment system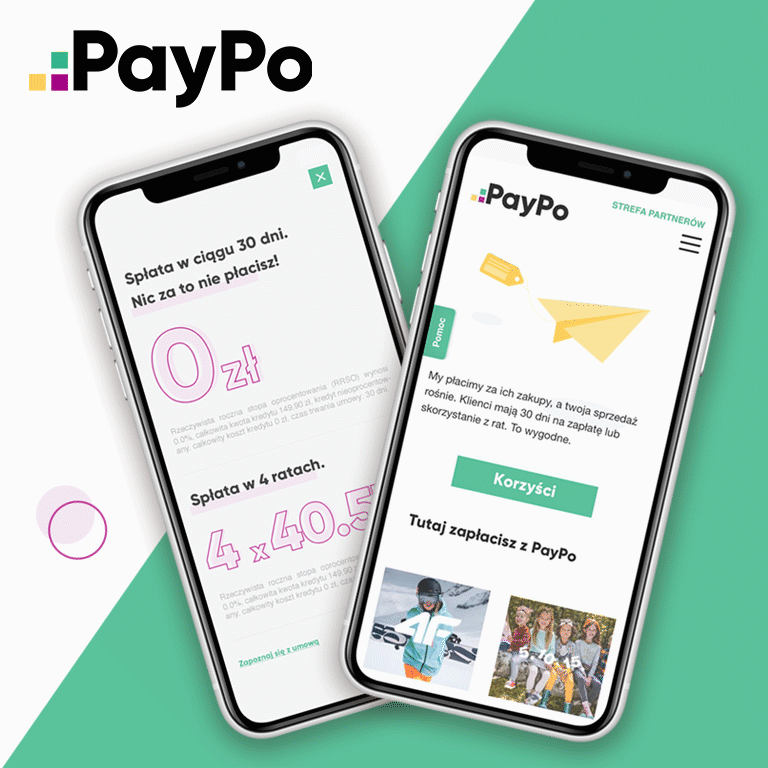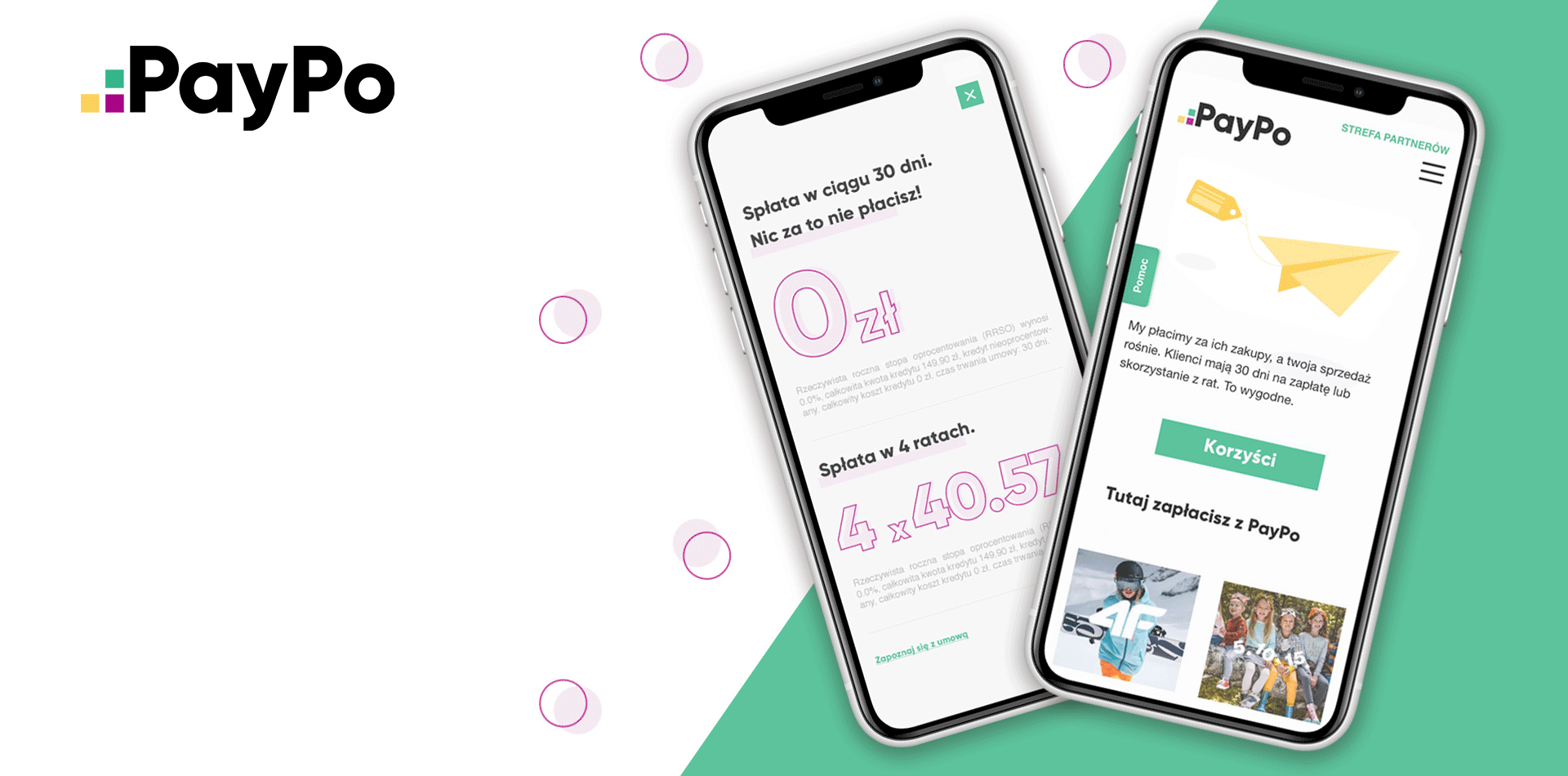 CLIENT
PayPo
WHAT HAS BEEN DONE
rebranding, brand identity, UX/UI design, wireframes, graphic design, CX design, frontend development
TECHNOLOGY WE USED
Lottie, React.js
DATE
July 2018 - Ongoing
PayPo is a fintech whose first financial product is deferred payments. It's expressed in their charmingly concise slogan: You buy, but you don't pay. Because you pay later. We try to incorporate this simplicity and accessibility into our activities carried out for PayPo.
The Challenge
Being accessible and helpful for users, the company stands out from rigid and predictable brands of other financial services. In contacts with users, PayPo focuses on a direct, light communication, that is why it needed a coherent, unconventional graphic identification.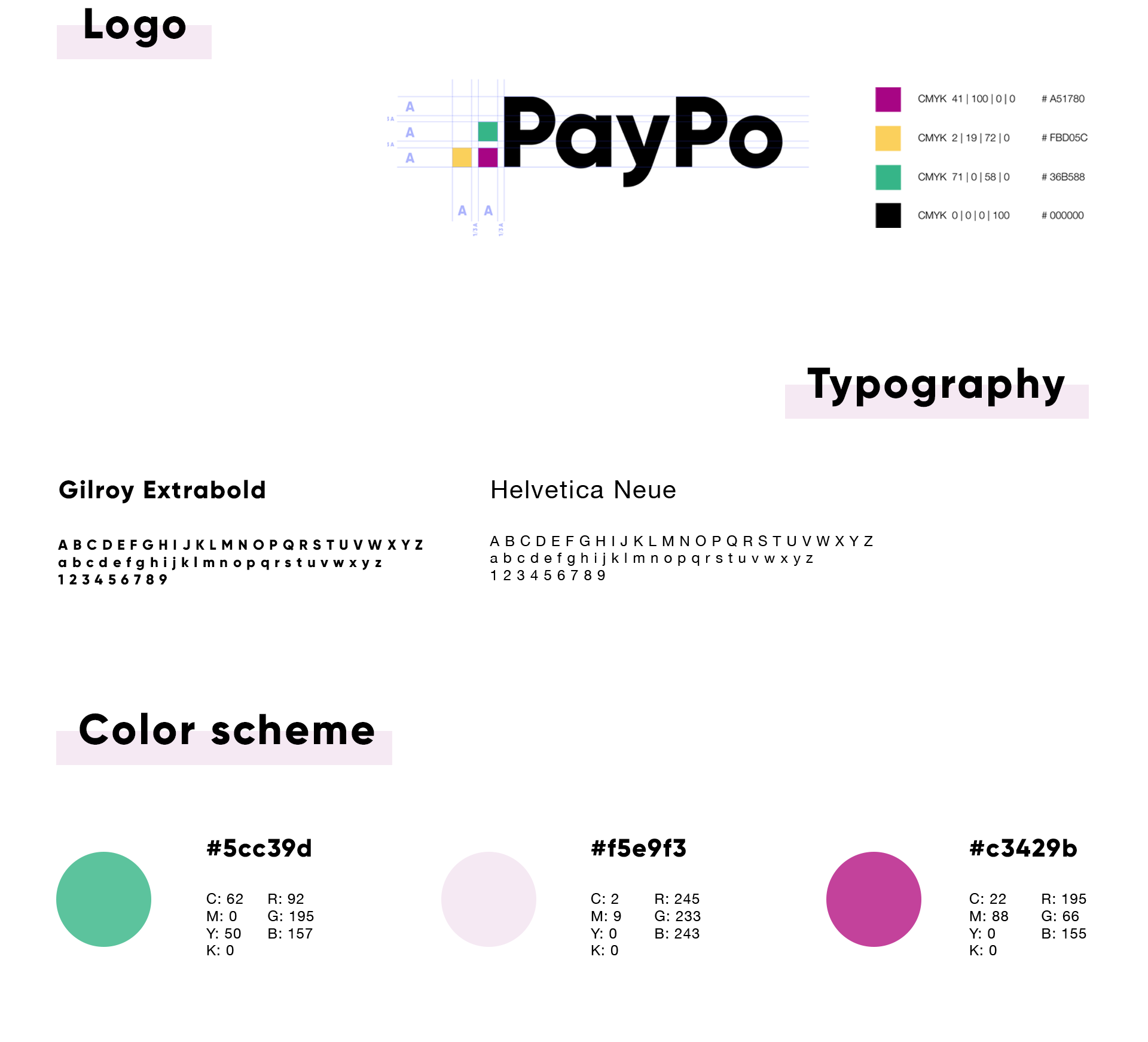 The Process
We work on the project together with the client, constantly exchanging comments and ideas, creating an image of an accessible and friendly brand. Our overriding goal was the convenience of the user.
We started with an analysis of the PayPo user's purchasing process. We have distinguished the points at which the user gets in contact with the service and figured out what the information provided at each stage of the service should look like.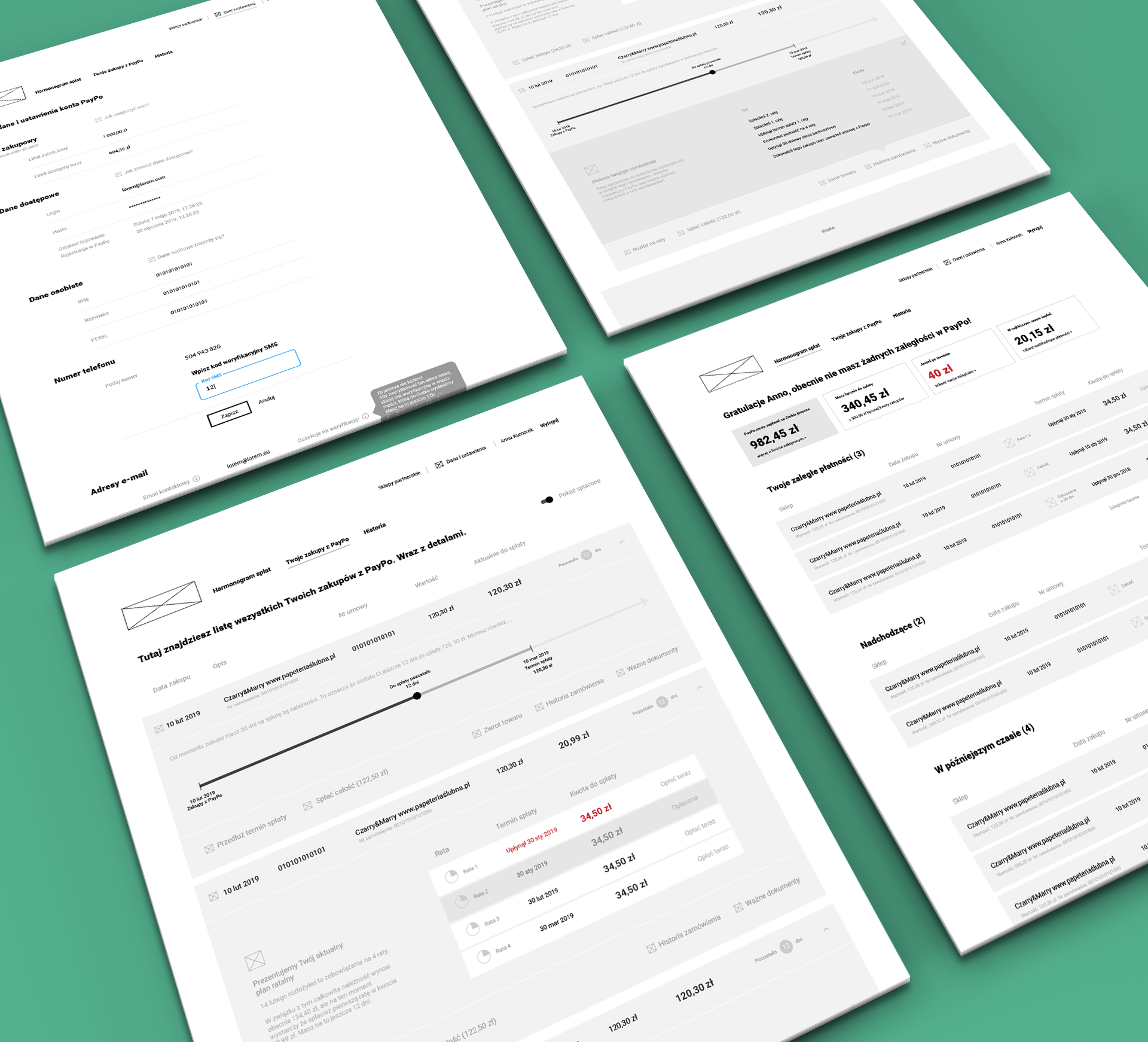 We designed lo-fi prototypes, prepared graphics for implementation and then coded the service interface. We have opted for a modern graphic style (typography plus illustrations), maintaining clarity and hierarchy of information.
For the animations on the website we have used the Lottie library (these are not ordinary gifts, but objects animated with code), thanks to this the website is lighter and clearer – just like the brand's communication 😉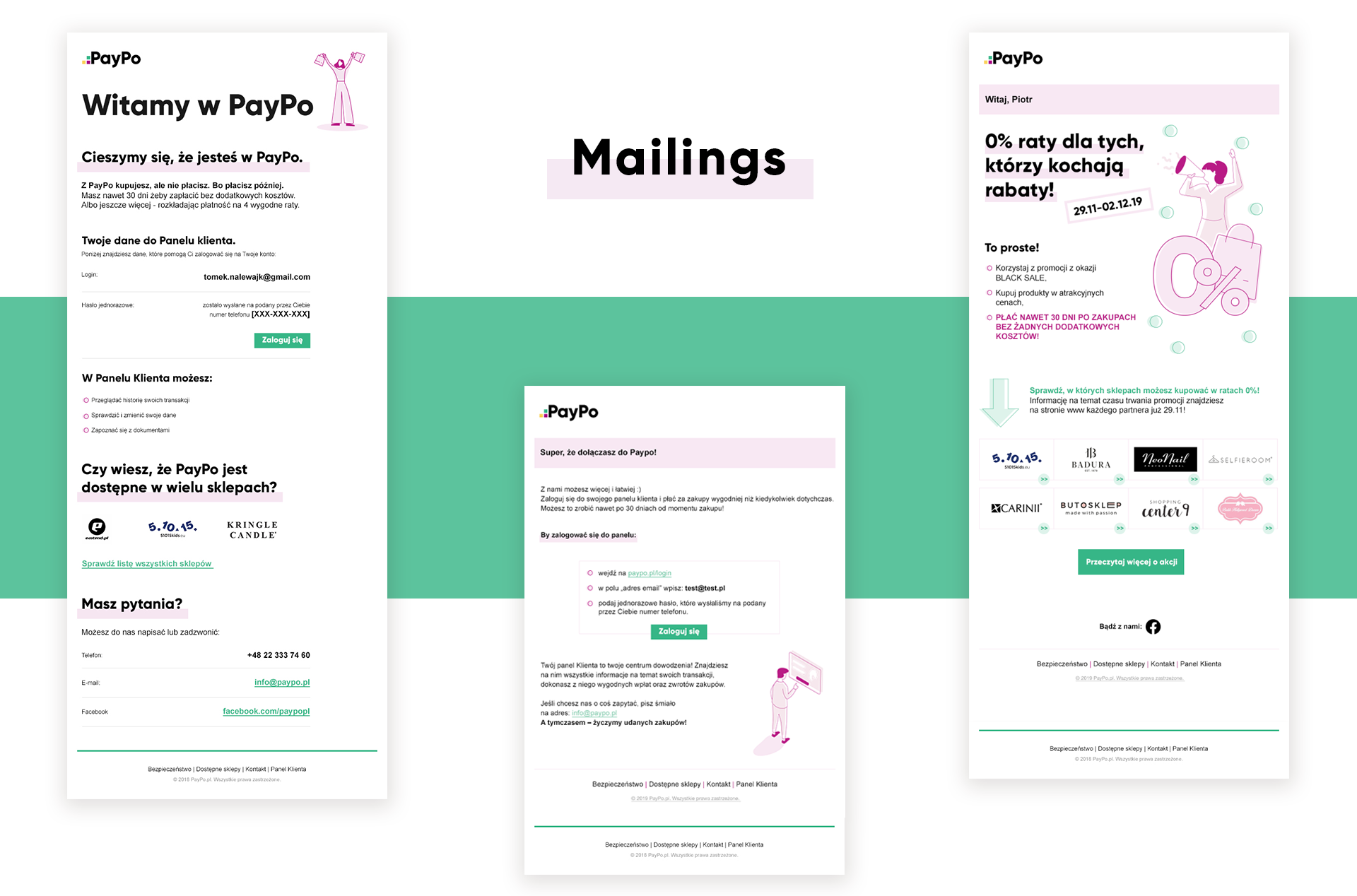 The Solution
Our cooperation has resulted in a coherent and unique visual identification that stands out from other services in the financial industry. When shopping, the users receive clear and transparent information about the next steps of the process, so they do not feel lost or frustrated. Instead, they feel satisfaction and confidence that they are dealing with a reasonable and reliable service. We are also pleased to co-create such a brand.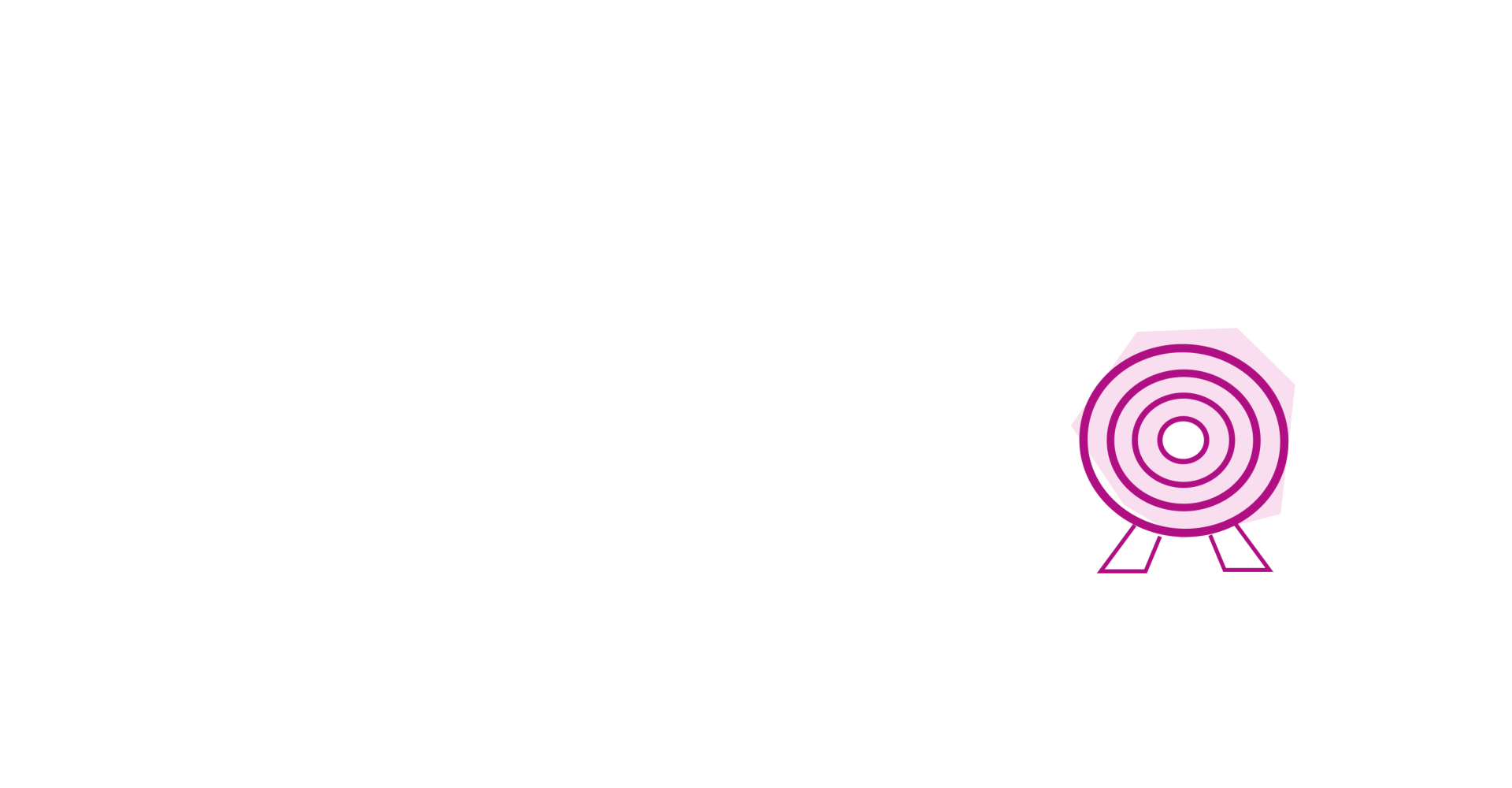 meet the team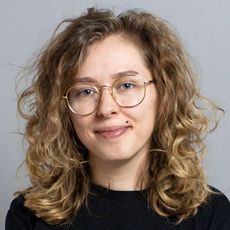 Martyna Huber
Head of Design
She is a multi-talented artist and a renaissance woman. Martyna designs graphics, UX and anything else you ask her to, but mobile applications give her the most satisfaction. In her free time, she pursues her musical interests by playing ukulele, singing and writing lyrics. She doesn't do anything by halves, she is 100% committed to everything she takes on and always stays creative. Are you wondering how is it possible? Simply put, Martyna is a natural-born taskmaster, her Asana is getting hot with closing the tasks. She likes everything black: glasses, humor and clothes. If these dark elements are missing it means she's sad. Fortunately, this happens really rarely.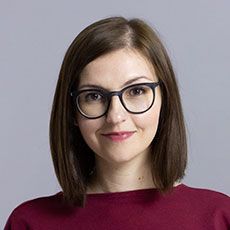 Joanna Grodkowska
Client Service Director
At Human, I take care of the client service team and I'm responsible for assigning projects which I also enjoy working on. I see clients' success as my own and I value long-term relationships. 
Most often I coordinate long-term projects and take care of tender issues. I supervise the work of creative teams which I love to work with.
I carry out projects in the field of direct marketing, performance, 360 campaigns, video, employer branding. 
At Human, I take care of projects for such brands as Delikatesy Centrum, PayPo, Avon, Payback, Scanmed or Oknoplast. I was also responsible for the direct communication for Showmax.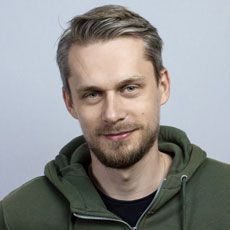 Karol Bilski
Senior Graphic Designer
An expert in User Experience. He will design even the most complex system in such a way that you will never get lost in it, and it will look really nice at the same time. Programming is Karol's hobby as a way to make his life easier. He likes playing Carcassonne board game, but he doesn't like counting points, so he created his own mobile application for that. Always calm and composed.